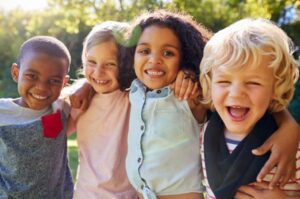 The Youth & Family Ministry of CSL Reno – Our Mission
We are a community of children and teens, from diverse backgrounds, who come together to discover and explore our relationship with God, with our families, and with each other. By learning and using spiritual tools, we see how our thoughts, choices and actions can empower us to create happy, purposeful lives. We know this is possible for all.
We have a warm, safe and nurturing environment with qualified staff and volunteers who oversee and facilitate our Sunday programs.
Our Preschool Children… experience a warm, loving and safe environment — a space where they can explore, discover, and play together. They gain important social skills and respect for self and others, while learning to treat each other with loving kindness.

Older children learn to recognize the qualities of God within themselves as well as in the world around them.  Through arts, games and activities, they explore, create, and appreciate the uniqueness of who they are.  Using the basis of the Virtue program curriculum, they focus on a different God quality each week to bring forth the goodness of life within them.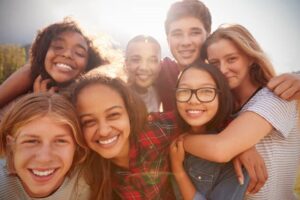 Our Teens explore spiritual principles, practices, and concepts to help shape and manifest their own best self.  They create authentic friendships that support them for meeting the challenges of their own diverse lives.  A sacred and safe space is created for personal sharing and growth, as they learn to let go of beliefs that no longer serve them and to practice loving kindness, forgiveness and empathy. Our teens regularly attend the national and regional camps offered by Centers for Spiritual Living, where they gain a bigger sense of their impact in the world.  Camps have been life-changing for our teens.
Kristin Lewandowski and Gretchen Giambra are the leaders for our Kid's Program.