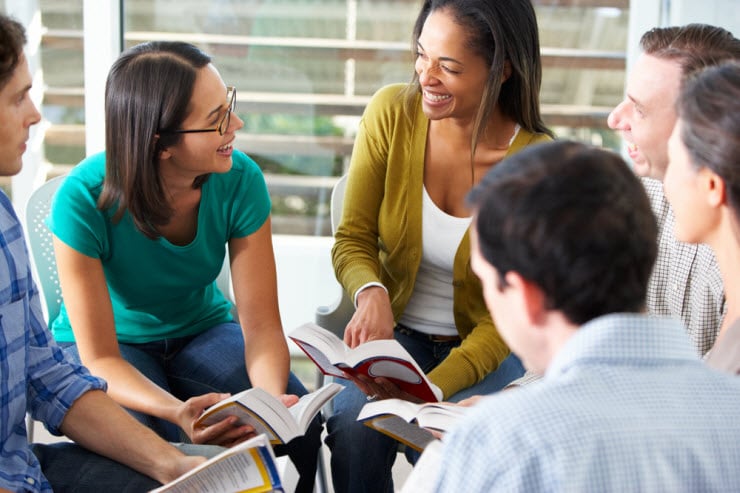 The educational program of the Center for Spiritual Living offers people of all ages and walks of life the opportunity to realize the Presence of God as all life, to discover their inherent creative power, and to experience the Presence and Power in their daily lives.
Our classes offer the unique opportunity to delve deeper into the philosophy of the Science of Mind and Spirit, to acquire a better understanding and use of the "spiritual tools" we talk about, to deepen community, develop friendships… and, ultimately, to change each one's life in a powerful way!
We offer "Certificated" and "Non-Certificated" classes.  "Certificated Courses" have universal appeal but they are also necessary to accumulate if you're on the track towards becoming a Licensed Prayer Practitioner.  "Non-Certificated Courses" or Life Enrichment Classes are just as juicy but have no prerequisites and are typically shorter in length.
Center for Spiritual Living Science of
Mind Courses
Certificated Classes

The following classes will be offered in the next five years. Please check our website or weekly email for class schedules and registration information.
Foundations of the Science of Mind and Beyond Limits (Foundational Level Courses) - These are entry-level courses that integrate the basic concepts and Principles of the Science of Mind into everyday life.  Students must successfully complete one of these two classes before enrolling in other certificated classes.
The Essential Ernest Holmes (Holmes Philosophy Course).  Based "What We Believe" including a weekly meditation.
Exploring Roots of Science of Mind and From Whence We Came (History/Philosophy Courses).  In-depth studies of the history of the Science of Mind and how those ideas ignite our lives today.
"Go confidently in the direction of your dreams. Live the life you have imagined." ~ Henry David Thoreau
Consciousness Courses
Creative Process in the Individual and The Edinburgh Lectures are two classes on the teachings of Thomas Troward, one of the great influences of Ernest Holmes.
Meditation is More than You Think – Experiential topics include a variety of meditation methods with light, mantras, sound, movement, breathing and more.
Practical Mysticism – A study into mysticism, providing students the framework to live a more mystical life right now.
Power of Your Word – An amazing course on the power of Spiritual Mind Treatment.
Self Mastery: The Emergence of the True Self – An exploration of the creative nature of thoughts and feelings.
Treatment and Meditation: Spiritual Practices for Daily Living – Developing lifetime habits of meditation and affirmative prayer.
Elective Courses
Ignite Your Life with Bible Wisdom, Metaphysical Bible and Bible History are three classes that explore the deeper meaning of the Bible and its relevance to our lives today.
Principles of Financial Freedom – Learn how to duplicate the nature of Spiritual in your financial affairs by developing attitudes and beliefs about money that are in alignment with Principles of Spiritual Truth, while releasing self-defeating patterns and old error beliefs.
Mind/Body Connection – The important role consciousness plays in the healing process.
Power of Decision – Based on the metaphysical classic by Raymond Charles Barker.
Spiritual Fitness – Living in truth and trust, i.e., being yourself at the deepest level in everything you do.
Treat Yourself to Life – Experience the joy of harnessing the Power for Good in the Universe for greater health, prosperity, relationships and creative expression.
For more information on registration, tuition information, instructors or scheduling, please call or visit the office.  You may also check the CALENDAR section of our web site to see when specific classes are scheduled.  All required books for classes are available in our bookstore, Sacred Path Books & Gifts.
"If you are planning for a year, sow rice; if you are planning for a decade, plant trees; if you are planning for a lifetime, educate people." ~ Chinese Proverb
Ready to find a class?
Send us a message today! We will be happy to answer any of your questions!  Or call (775) 826 - 0566 today!