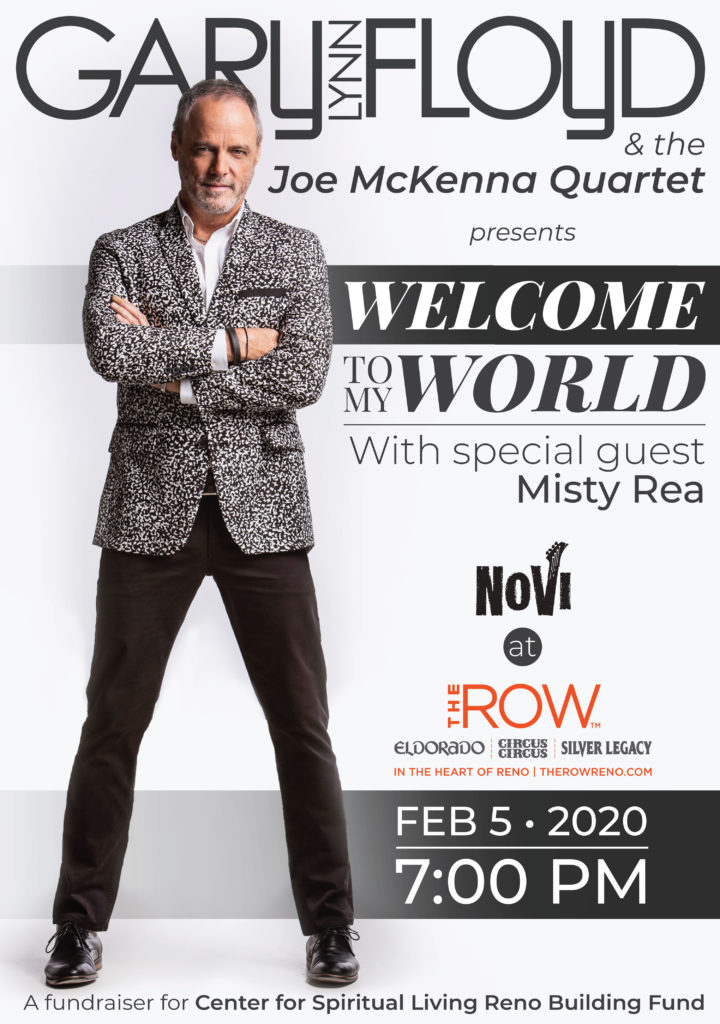 This is Gary like you've never seen him. Pop. Jazz. Broadway. Originals.
Welcome To My World : the culmination of a life's work.
Support our exciting new building expansion!
Purchase Your Tickets Now: Preferred Seating or General Admission Available - see below
When you click Submit you will be directed to a secure PayPal site where you can pay with your credit/debit card or through your PayPal account. Transaction is complete when payment is made.
Preferred Seating - $60

General Admission Seating - $40


2020 Vision Kenya Conference
January 31 – February 2, 2020
In Nairobi, Kenya
The first New Thought Conference in Africa
There are a variety of group tours and opportunities to participate in service projects before and after the 20/20 Vision Kenya conference, and the total cost for the entire trip from 1/26 - 2/10 is only $2650. If you are interested, visit cslkenya.org for details.  Beth Williams and Dave Asher from CSL Reno will be attending and would love to have company from our spiritual community.
We also have an opportunity to "sponsor" Kenyan Science of Mind students to attend the conference for $100.  A typical income for Rev. Connie's students is $1.00/day so $100.00 is a huge amount of money for them and your donation will be changing lives.  If you would like to make a sponsor a student, visit cslkenya.org and scroll down almost to the bottom. On the left is a box for 20/20 Vision Kenya options and the box has $500 deposit in it - if you click that box (even though it doesn't look like a drop-down screen), you will see the other payment options including sponsoring a Kenyan for $100 at the bottom of the list.
Annual Membership Meeting

Sunday, January 26th
12:15pm-1:00pm (approx)
Join us for a review of what we accomplished this past year, to learn our plans for the new year, and to participate in the election of new Board Members. If you are a member, please sign-in in the foyer before coming into the meeting. Everyone is welcome, but only members can vote.
____________________________
Foundations of Science of Mind and Spirit


Tuesdays, February 11 - April 21, 2020
6:30pm-9:30pm
Facilitated by Gretchen Giambra, RScP and
Jason Giambra, RScP
Register today for this Certificated Class which is a prerequisite for all other Certificated Classes. Learn nine Spiritual Principles and a variety of practices that will change your life forever.
Click Here for More Information
____________________________