Applications for Board of Trustees
Sunday, January 13, 2019
We are accepting applications for members of our Board of Trustees for two-year terms (2019-2021).
The requirements and applications can be found on the Activities Table.
Applications must be turned in to the office or to a current Board Member by Sunday, January 13, 2019.
_____________________________________
Blood Drive
Sunday, January 20th
8:30am - 12:15pm
A great opportunity to donate blood for people in our community.
United Blood Services is now Vitalant but doing the same great work.
Help save someone's life with this simple act.
The Bloodmobile will be in the parking lot all morning.
Please sign up in the foyer.
_____________________________________

Wednesday Afternoons 1:30-3:30
Jan. 23, 30, Feb. 6 and 13
Facilitated by Rev. Dr. Liesa Garcia
This is a 4-week class based on the books of Marie Kondo and the
Japanese art of decluttering and organizing.
Use these principles to tidy up all your "stuff," as well as
the stuff that may be getting in the way of the life you desire.
"Spark Joy" is required reading,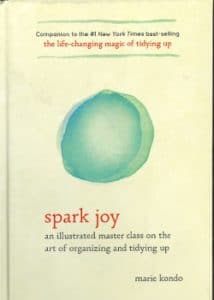 "The Life-Changing Magic of Tidying Up" is optional.
Registration $45 ($50 at the door)
Go to Spark Joy in Your Life Registration
_____________________________________
A Year in Review... and Plans for Our Future

Sunday, January 27, 2019
12:15 - 1:00pm (approx)
Join us for a review of what we accomplished this past year, our plans for the new year, and for the election of new Board Members.
If you are a member, please sign-in at the table in the foyer before coming into the meeting.
Everyone is welcome, but only members can vote.
_____________________________________
Food Bank of Northern Nevada
Saturday, February 2, 2019
7:30am - 10:30am
We have arranged another opportunity for our spiritual community to help out at the Food Bank of Northern Nevada. If you would like to be involved, meet at the church at 7:30 to carpool to the Food Bank. You'll be glad you did. Please sign up at the Activities Table.
_____________________________________