Where It All Began
It was 1960 and John F. Kennedy was President. The world was still recovering from its second world war and while life seemed simpler then, there was a growing discontent with the norms of traditional religion. The old answers failed to answer the new questions that were arising. 
It had taken awhile for the New Thought Movement that began in the late 1800's in New England to infiltrate to the Western part of the United States, but it did. A handful of inquisitive and soul-searching individuals in Reno, Nevada began to look for other answers. Life-affirming answers. Answers that encouraged thinking, and the culmination of science and spirituality. Answers to the questions, how do we choose our own destiny?  How does my thinking affect my health?  Are we really all One?  
Then they discovered the Science of Mind and Spirit, written by a brilliant man from New England named Ernest Holmes.
And then it happened that simultaneously, two different groups began gathering in living rooms on opposite ends of town, studying and discussing the Science of Mind and Spirit.  When they eventually discovered one another, they joined forces and the numbers soon grew. They read together, they prayed together, they studied the teachings together. And they recognized that they could do more together than individually.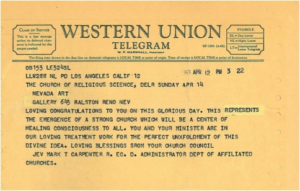 By April of 1963, they had attracted enough members, 50, to become officially chartered with the United Church of Religious Science worldwide organization.  They were no longer a study group, but a bona fide church, recognized under the State of Nevada.  
For years, logistics were a bit of a challenge. From the living rooms of members, they advanced to part-time meeting spaces—classes in one space and Sunday services in another—and eventually to their semi-permanent, freshly remodeled, all-inclusive rented facility on Oddie Boulevard and Sutro Street.  It met their needs for quite some time.  
But the membership longed to have its own spiritual home.  From the very beginning, a building fund had been established. It took nearly 20 years of bake sales, rummage sales and other fundraising activities, but those committed folks never lost their vision of having their own church.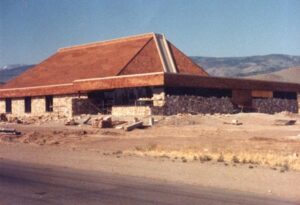 Eventually, they raised enough money to buy the then-undeveloped property in a new area of town called Lakeridge, where a golf course and beautiful homes were planned to be built. They owned the property. They didn't stop.  They raised more money and built the Church.  25 years after they started, in 1985, their vision and dedication came to fruition.  The Church we all know and love was built and opened its doors.   
Over the years, we have added-on and remodeled to meet the needs of our growing congregation. Our first major addition came in 1995 when classrooms were added that doubled as space for the Youth Ministry.  This has been known as Holmes Center.  We made major renovations to our sanctuary in 2005. We added the sacred garden area, to say nothing of all the updates we've done to the audio-visual aspects, the décor, chairs, and so much more.  
We love our beautiful building and Lakeridge Property and have gotten clear that this is exactly where we want to be.  Yet in the last 15 years, we've felt scrunched in.  
What Is God's Idea?
It starts with classes, just as it did with our early founders.  In fact, a huge part of our Spiritual Community is classes.  Our classes help people recognize their own personal power, help them to discover the God that is within them.  This is where we see people's lives change. One class leads to another because once the jewel has been revealed, the quest is endless. People want to know more and have a greater experience of the power that is within them.  
Taking classes is also one of the best ways to "create community" –we all get to know each other on a deeper level.  It's really a special thing when we have a community of friends with whom we share this common interest.  And it grows.  And it's wonderful.    
But classes need space and we've been limited in what we've been able to offer, due to limited space.  We've had to make tough decisions about which classes not to offer because there is not a day or evening or time with a classroom available. Since we teach that we don't believe in limitation, we had to create a new idea of what expanded space could look like and how it could benefit all.  We recognized that God's idea is to support people in creating their best lives by teaching the powerful principles that had already helped so many.  We need space to do that.   
Every day and night of the week there is something going on in the Church that requires space to do what they do, which have included– A Course in Miracles, yoga, Tai Chi, choir and music ensembles, prayer groups, senior strength training, Master Mind groups, countless meetings, volunteer activities, outside groups who rent space, and more. It became a scheduling challenge–how could we find a place for all these activities?  How could we say 'no' to all the good Life wants to offer through us? 
Our Youth Ministry was also scrunched.  With ages ranging from babies, to elementary ages, to middle schoolers and high schoolers, we had to be very creative as to where to put them. Being filled up is not a bad thing, but it doesn't always create a welcome environment for more children, for an expanding Youth Ministry.  We wanted to have the space for many more children to be able to grow up with the principles of positive living that they're taught here, learning to make good choices, believing in themselves, and learning compassion for all.  
Finally, we've experienced the need for a small, sacred space to hold intimate weddings and memorial services, as well as a variety of sacred services.  Our main sanctuary is beautiful—but people who want a small number of guests are overwhelmed by the size of our sanctuary. We envisioned what this space could be–and it is now manifesting as a chapel. A sacred and special space.  
Another need we have had is an outdoor space where people could gather, just to be together, or for simple meals or receptions, or to read, to meditate, and just to take a break from a class, or from life.  It is both practical and spiritual, connecting us with the earth and with each other.  This is manifesting as our Community Courtyard and it will be filled with personalized pavers, with places to sit, with a water feature, and luscious landscape.  
In the process of remodeling, we have moved the Sacred Path Books and Gifts Store to a more prominent location, and simultaneously created a much expanded fellowship area. No more scrunching in to get our coffee and cookies, but really seeing each other and being able to talk.  Creating community.  
And last but not least is a place to put everything when it's not in use.  Much of our otherwise usable space has been congested by storing tables, chairs, class equipment, seasonal décor and more.  For decades, we've struggled with how to manipulate and manage this.  The struggle is over because we are manifesting a new large storage room on the west side of the church.  It has easy access and opens up needed space in other places.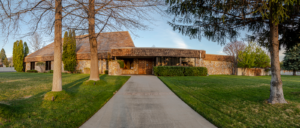 The idea for this expansion began in 2012. But the clarity of the vision of what it wanted to be and how it could be that, unfolded two years ago. We were off and running.  We could finally see Spirit's idea of how this could be.  Momentum was created and since then, we haven't stopped.  
Putting Our Money Where Our Vision Is
Eight years ago, we started the "Grow with God Building Fund" because just as our early predecessors put their money where their vision was, so did we.  We held a three-year campaign and accepted pledges from members and supporters.  We created a fund with nearly $200,000.  Great seed money.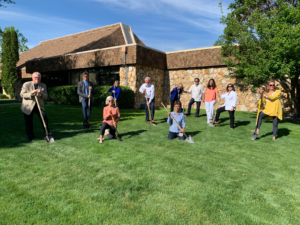 We have valued ourselves as being good stewards of our money.  Our Minister and Board of Trustees have made wise choices and decisions.  In 2017, we paid off the existing mortgage and from that time forward, we've continued to put the amount we would have used to pay the mortgage, into a money market account.  This has shown us that we have the means and the discipline to pay off a loan or mortgage on the new expansion.  
Yes, we are able to get a loan for the roughly $450,000 remainder we would need to mostly finish this project.  But we would love to be able to pay it off instead, avoiding another mortgage.  This means that we are asking members and friends to support this expansion project.  
Ways to Support Our Building Expansion.  
There are many ways to support our building expansion.  You can…
Buy one or more engraved pavers for our new Community Courtyard.

Sponsor one or more of the items on our wish list.  

Participate in any or all of the other fundraisers we offer.

Make and/or fulfill your pledge to the Grow with God Campaign.  

You can make direct donations to the Grow with God Building Expansion. We accept checks, credit cards, Pay Pal—we're open to everything!
Transformation happens by using the spiritual tools we offer, all in a space and place that is conducive to growth.  
It doesn't just happen just on Sunday mornings, but in our classes, and classes need

classrooms

.  For adults

and

children.

It happens in our new sacred

chapel

, an intimate place to discover and cultivate the power and presence of God within.  

It happens in our new and expanded

fellowship area,

reminding us that "we are an open and loving community." 

It happens in our

bookstore

, which supports us on our spiritual path, takes us back to our roots, to our predecessors who knew the value of reading, studying and discovery. 

It even happens in our new big

storage room

, because we believe "order is the first law of heaven."    

It happens in our beautiful new

Community Courtyard

, a place to "stand on holy ground."  
We are so blessed by so much at our Center: our Ministers, our Prayer Practitioners, our staff, our music team, our volunteers, our affinity groups, our Youth Ministry, our classes, our special events, our congregation, our bookstore, our generous donors, the predecessors on whose shoulders we stand, and, of course, our church building and grounds.  We invite you to see the infinite possibilities that lie before us in the years to come, to invest in not just our Spiritual Community but the healing of our planet, as we create a world that works for everyone.  
Over these nearly six decades, Center for Spiritual Living, Reno has reached and helped transform thousands of lives. This Spiritual Community that God has created through us, has given people a place to call home, a place to belong.  
Rev. Dr. Liesa Garcia
September 2020
Note:  While we are in the midst of a global pandemic as this is written, and, therefore the day-to-day operation of the Church is not the norm, we have complete faith that life will return to a new normal and our teachings will be more relevant, more needed than ever.