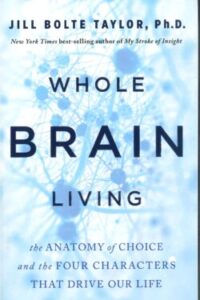 Whole Brain Living Book Study
When: Tuesdays, March 28 – April 25, 2023
Time: 6:00 – 8:00pm
Where: Zoom
Cost: $50
Facilitator: Laura Morrison, RScP
Required Book: "Whole Brain Living" by Jill Bolte Taylor
The book study will be primarily discussion and interaction regarding the concepts the book presents, with opportunities to practice the spiritual tools described in the book.
We will be discussing the model of the mind described in the book "Whole Brain Living" by Jill Bolte Taylor. This model describes the mind as divided into four parts, which Taylor describes as 'characters;' parts that think in very different ways. She sees these four different 'characters' as associated with different parts of the brain. But the discussion will not be primarily focused on the brain, except as the model helps us to better understand our mind. She also describes tools that can be used to interact with all these parts in order to help them to work more effectively together, and we will be practicing those tools.
It is suggested that you register by March 19th so you have time to complete the reading assignment before the first class. (Assignment and Zoom link will be emailed to you after you register)
Registration for the Book Study is now closed.