UPCOMING SERVICES

December Theme:
Be The Change...
as Joy

What does JOY look like, feel like to you?  If you felt truly Joy-full, how would you act?  How would you talk?  In our final month of "Being the change we want to see in the world" imagine yourself waking up in Joy and experiencing it with every breath.  Imagine the whole world cloaked in JOY!  What a great image!  If we look beyond all the commercialism and materialism of the holiday season and instead experience the real reason for the season, we'll see it's really all about JOY—through the eyes of a child, through the giving, through the festivities.  This may be the greatest gift of all.
December 8th – "Choice to Rejoice"
December 15th – "Conspiracy of Joy"
December 22nd – "A Baby Changes Everything"
December 24th – "The Greatest Gift"
Christmas Eve Service

December 29th – "All Good Things…"

SUNDAY SERVICES

Live every Sunday at 11:00am PST
WELCOME HOME
We are a loving community, providing spiritual tools for personal transformation, creating a world that works for everyone.
We are a "New Thought" Community but our philosophy is based on ancient wisdom. We're an alternative to traditional church; we are spiritual yet have no strict religious dogma or doctrine. We honor all paths to God and recognize our spiritual connection with all beings.
Our way of life is called The Science of Mind and Spirit, compiled by Ernest Holmes in the late 1800's – early 1900's, and based on perennial philosophy and spiritual truths found in eastern, western, indigenous religions, metaphysical writers, mystics, philosophers and quantum scientists.
We believe that there is a Power for good in the Universe greater than we are and we can use it to create lives that are happier, healthier, loving, prosperous and purposeful. We can use this Power to care more for others, be better stewards of the earth, and to bring peace and harmony to the world. If you are in search of a spiritual community where you can learn tools to grow, be accepted for who you are, be inspired to reach your highest potential and foster a deep connection with the Divine, then I invite you to visit our Spiritual Center!
Rev. Liesa Leggett Garcia, Senior Minister
OUR SERVICE ON SUNDAY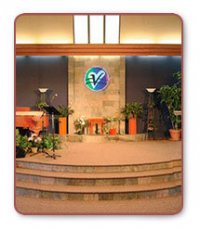 During our Sunday services, we sing, we pray, we hug, we listen to beautiful music, and we listen to Rev. Liesa deliver a powerful, inspiring, and relevant weekly message. All are welcome to play and pray with us.
Center for Spiritual Living, Reno has two services on Sunday mornings. The first service begins at 9:15 a.m. and the second at 11:00 a.m. Both the early and later services contain the same weekly message and music, with some very minor differences.
Center for Spiritual Living, Reno is wheelchair friendly, inside and out. We have a Youth Ministry during the 11:00 a.m. service for children of all ages, and we have a "crying room" available during both services for parents with infants.
Following both services coffee, tea and light snacks are available in the foyer where people gather to socialize and meet with new and old friends alike.
Additionally there are some special holiday services for the Easter and Christmas observances.
Service Times:
9:15 a.m.
(No Youth Church)
11:00 a.m.
(Youth Church Available)